DPWH Commissioned Engineering Services
by Local Economic & Investment Promotion Office (LEIPO)
---
July 27, 2020
---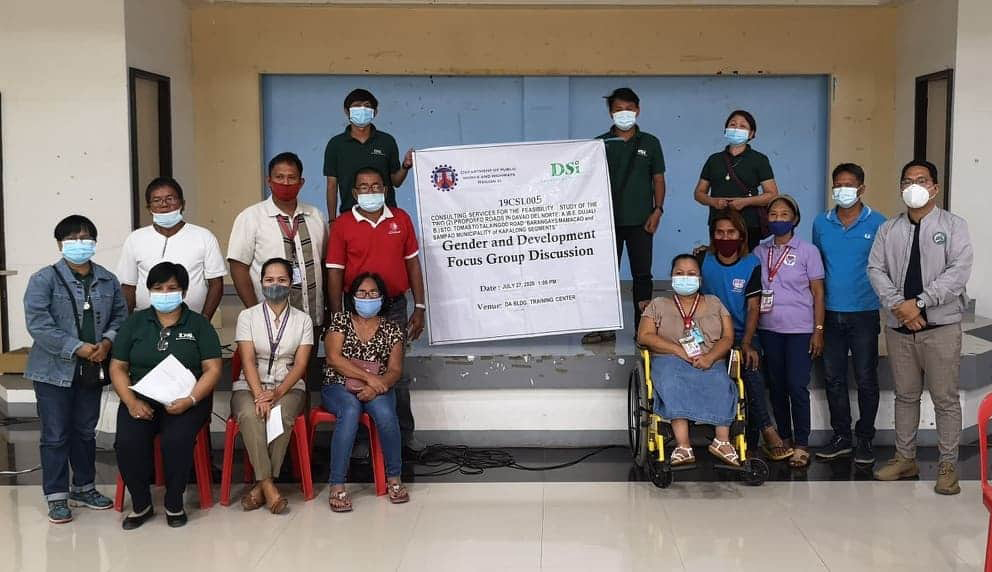 ---
Successfully conducted the GAD FGD stage for the Proposed Road Network from Santo Tomas traversing Mamacao and Sampao to Talaingod, Davao del Norte.
The DSI Engineering Services successfully conducted the Gender and Development Focus Group Discussion for the feasibility study stage of the Proposed Road Network from the Municipality of Santo Tomas-traversing Barangay Mamacao and Barangay Samapao going the Municipality of Talaingod under Project ID 19CSL005— a 9.32 km Road Network which will end at Sitio Narra, Barangay Gabuyan, Kapalong, Davao del Norte.
DSI Engineering Services was commissioned by the Department of Public Works and Highways to conduct the said feasibility study. The project has project nature of Roads and Bridges, Widening, Rehabilitation and/or Improvement as Category B: Non-ECP.
The focus of the said activity is to know how the project benefited both men and women and its impact on their day-to-day living soon after the completion of the project. Engineer Conchita L. Narisma- Team Leader of the DSI Engineering Services emphasises that the team are working coherently despite the public health emergency situation. She added that if the preparation stage were all done, she'll make sure that the project shall begin very soon.
The attendees of the activity were representatives from the different sectors;
Farmers Group/Irrigators Association
Fish Folk
CBFM/ISF Holder
Academe
Transport Group
Indigenous People
Person with disability
Business Group
GAD Focal Person
LGBTQ+
Elderly
On the other hand, the Local Government Unit of Kapalong is expecting not only making a contribution to economic development and growth and brings important social benefits, but to also expects the robust investment opportunities in the Two Barangays (Sampao and Mamacao).
According to the Local Economic and Investment Promotions Officer, Mr. Arnel Panimbo, this road infrastructure project is vital important in order to make a community grow and develop.
He added that the said project will provide access to employment, social, health, and education services and above all making this development crucial in fighting against poverty.-LEIPO